Have you ever been interested in chartering a Rapido 60?
Now, thanks to the owner of Ineffable, Steve Bourne, that becomes possible as he is offering to make Ineffable available for charter – "either as the whole boat or for individual participation".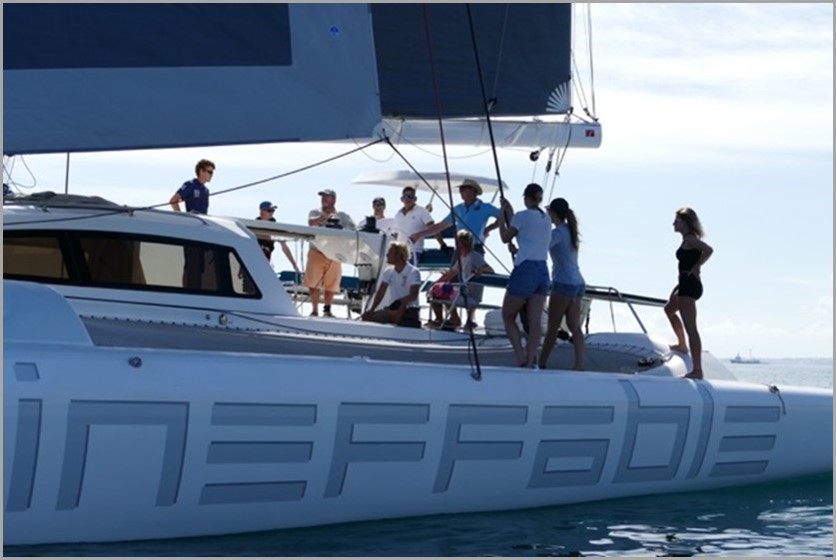 The Rapido 60, Ineffable (see above), is now available for charter.
Steve explains further that:
The Ineffable Rapido 60 is a new breed of award-winning, fast, ocean-going cruisers.
Ineffable has a huge presence, measuring 60ft x40ft with a mast 83' above water. A monster boat!

The word Ineffable means something so wondrous that you can't describe it in words, painting or music.

Ineffable is fast, reaching speeds of up to 30 knots. A real thrill!

Ineffable is safe, with a righting moment more than six times that of a mono hull).

Ineffable is comfortable, equipped for top-end entertaining.

Ineffable can park on a beach, float over reefs, and cross vast oceans!
Ineffable's 2020 Program
There will be an Atlantic crossing to Azores and then onto Plymouth, UK, in time for the European Regattas (including Mallorca Cup and Rolex Mid Sea Race).
Find out more information on chartering Ineffable
To find out more about the chartering opportunities with Ineffable:
Download the pdf file, Ineffable Charter presentation.

Email Ineffable's owner, Steve Bourne.
Disclaimer: For those interested in crewing aboard Ineffable, they should deal directly with the owner, Steve Bourne, on all matters. Any arrangement or agreement between any crew member and the owner(s) of Ineffable will be entirely between the crew member(s) and owner(s) of Ineffable. Rapido Trimarans Limited has no direct or indirect role with this initiative apart from offering some promotional support.
#Rapido60, #ineffable, #charter, #queenoftheoceans, #doitnow, #besttimes, #dreamcatcher